Explore Alice Springs with Car Hire
Alice Springs is one of Australia's most well known outback towns. It is almost in the centre of the Territory and lies between the West and East MacDonnell Ranges, and can be reached in a day's drive from Darwin.
Most of the year you can enjoy sunny days, and wide, blue skies. The winter nights get very cold, so don't forget your socks, and in summer the temperatures can soar to over 40 degrees. The best time to travel is spring and autumn, where the temperatures are not as extreme.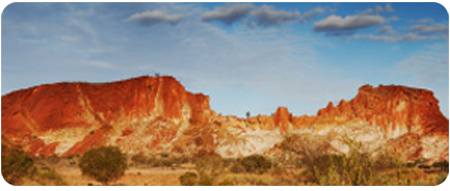 There are plenty of day trips not far from town which are just as fascinating. One popular natural attraction is the Rainbow Valley, located in the James ranges. You can also visit Chambers Pillar on the way which features rock carvings and is steeped in history.
Heading south just over 100 kilometres, you will be rewarded by some of the most stunning scenery at Finke Gorge National Park. There are camping facilities at Palm Valley, known for its bountiful cabbage palms, if you prefer to stay longer.
To book Alice Springs car hire, use the quote box above to choose your pick-up/drop-off locations and travel dates.
Alice Springs Car Rental Depots
Depot
Supplier
Address
Alice Springs Airport
Avis
Terminal Building
Alice Springs Nt
Alice Springs Airport
Budget
Terminal Building
Alice Springs Nt
Alice Springs Airport
Europcar
Terminal Building
Alice Springs Nt
Alice Springs Airport
Hertz
Santa Teresa Rd
Alice Springs Nt
Alice Springs Airport
Thrifty
Terminal Building
Alice Springs Nt