Explore Cairns with Car Hire
Cairns is the hub of Far North Queensland, famous across the world for its tropical rainforests, pristine beaches and of course the Great Barrier Reef. The World Heritage Area is one of Australia's most protected and valuable treasures and an unforgettable holiday destination. Dive, snorkel or take a glass bottomed boat tour on the reef to see tropical fish at play among the colourful coral.
The city itself is full of things to see and do, such as the new Esplanade Swimming Lagoon,the perfect place to relax when you have finished your shopping and sightseeing. If you've had enough of the sun head inland to the famous Daintree Rainforest or Lake Placid Tourist Park.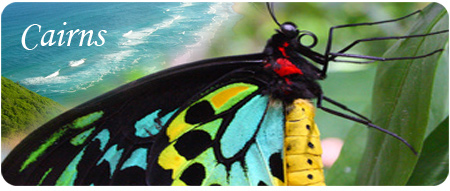 Cairns' climate is mostly warm all year round, divided into a wet season (November to May) and a dry season (June to October). Summers get quite hot so regularly reapply your sunscreen, drink plenty of water and stick to the shade.
To book Cairns car hire, use the quote box above.
Cairns Car Rental Depots
Depot
Supplier
Address
Cairns Airport
Avis
Terminal Building
Cairns Qld
Car Hire Brisbane
Cairns Airport
Budget
Terminal Building
Cairns Qld
Car Hire Brisbane
Cairns Airport
Europcar
Terminal Building
Cairns Qld
Car Hire Brisbane
Cairns Airport
Hertz
Terminal Building
Cairns Qld
Car Hire Brisbane
Cairns Airport
Thrifty
Terminal Building
Cairns Qld
Car Hire Brisbane
Cairns
Avis
153 Lake Street
Cairns Qld
Car Rental Brisbane
Cairns
Budget
153 Lake Street
Cairns Qld
Car Rental Brisbane
Cairns City
Europcar
Cairns Square
Cairns Qld
Car Rental Brisbane
Cairns Central
Hertz
147 Lake St
Cairns Qld (1)
Car Rental Brisbane
Cairns City
Thrifty
Cnr Sheridan And Aplin Streets
Cairns Qld
Car Rental Brisbane
Palm Cove
Avis
Reef House Resort, 99 Williams Esp
Palm Cove Qld
Palm Cove
Budget
99 Williams Esplanade - The Reef House Resort
Palm Cove Qld
Port Douglas, Qld
Thrifty
Shop 16 56 Macrossan Street
Port Douglas Qld