Explore Ayers Rock with Car Hire
Ayers Rock (Uluru) is one of the most famous Australian icons located in the Uluru National Park. Located within a days drive south west from Alice Springs, it should be seen at least once in a lifetime for its sheer beauty, ever changing colours and vast, wide plains.
The majority of tourists who visit come with Ayers Rock in mind, either to attempt the walk or capture the magnificent changes in colour at sunset or sunrise. Whatever you choose you will need to stick around a couple of days at least to make the most of your stay here.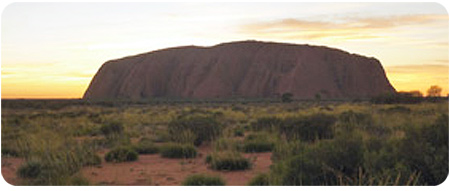 Head three hours north east from Ayers Rock and you will enter the Watarrka National Park, home of Kings Canyon. There are all species of exotic plant life here, as well abundant wildlife. Pack your walking shoes for a three to four hour walking trail which will take you to the rim of the Canyon for spectacular views. Most popular natural attractions are the Garden of Eden which features a waterhole and abundant vegetation.
Ayers Rock, the Olgas, Kings Canyon and the stark red landscapes of the red centre are everything Australia is known for and proud to show off to rest of the world. Many people choose an outback adventure to escape to a place where there is freedom, rugged beauty and incredible landforms. You have it all here.
To book Ayers Rock car hire, use the quote box above to choose your pick-up/drop-off locations and travel dates.
Ayers Rock Car Rental Depots
Depot
Supplier
Address
Ayers Rock
Avis
Terminal Building, Connellan Airport
Ayers Rock Nt
Ayers Rock Airport
Hertz
Coote Rd
Ayers Rock Nt
Ayers Rock Airport
Thrifty
Terminal Building
Ayers Rock Nt