Queensland Holiday Information
Queensland is the Sunshine State and is a favoured destination for many Australians annual vacations. Amongst the jewels in the crown of Queensland holiday spots are Cairns, Noosa, The Daintree, The Great Barrier Reef (and its many islands), Lawn Hill, the Sunshine Coast and the Gold Coast. With so much to see and do in Queensland, there really is no better way to experience it than with a driving holiday. Queensland offers many towns/cities from which you can pick up a hire car, making this the idea option.
Brisbane city is relaxing, friendly and vibrant, and an ideal base for your car hire holiday. It deserves more than just a quick visit as it is a tourist destination in itself.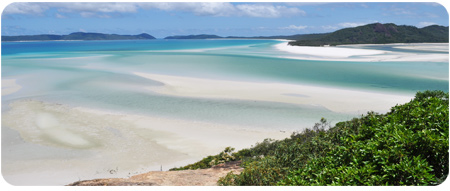 Famous for its tropical rainforests, the Great Barrier Reef and sunny skies, Cairns is the hub of North Queensland. Cairns is ideal for the traveller searching for rugged wilderness and beauty.
There are only two main seasons, the wet and the dry. You don't really get cold in Cairns, but the wet season (November to May) is known for its heavy downpours and occasional tropical cyclone. The dry season (June to October) brings sunny skies and high temperatures. Most days are sunny with a light breeze, bringing perfect days for your holiday.
Known for its sugar cane plantations and beautiful beaches, the city of Mackay is central for car hire travellers along the magnificent East Coast of Australia. With a population nearing 80 000, Mackay is a popular tourist destination and often used as a base to explore the surrounding beaches and natural attractions. Located on the central Queensland Coastline, almost between Brisbane and Cairns, the Mackay district covers a massive stretch of land, including islands in the Great Barrier Reef.
The possibilities are seemingly endless in Queensland so why not use the Quote Box above and start planning your Sunshine state escape today.
Queensland Car Rental Depots
Depot
Supplier
Address
Brisbane City
Avis
53 Albert Street
Brisbane Qld
Brisbane City
Budget
53 Albert Street
Brisbane Qld
Brisbane City
Europcar
728 Ann Street
Fortitude Valley Qld 4006
Brisbane City
Hertz
55 Charlotte St
Brisbane Qld
Brisbane City
Thrifty
49 Barry Parade
Fortitude Valley Qld