Car rental specials come in two basic forms. The first type of car hire special is the one where the daily rates are discounted. The second type of car rental special comes in the form of an upgrade or an extra. Example of extra car rental special would be a free upgrade to a bigger car, or a free tank of fuel.
The first type of car rental special, the discounted rates, happens continually. The car rental companies are always using discount specials as a way of moving their rental fleet. This sort of car rental special comes through automatically on this website. All you need to do is run a normal compare car rental selection, and any special discounted rates are displayed.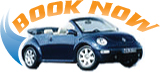 The
upgrade
car hire special is done more seasonally. This means, companies may be offering car rental specials or not offering car hire specials. If there are currently car rental specials, then the details of the specific special car hire special will be detailed below. These specials will also be included within the normal hire
availability
, again you only need to make a normal
compare car rental
selection to be able to book the special.
No Current Car Rental Specials